Plucky is Spoon Fed
Plucky found himself being kindly cared-for by
the nice people at the Pitiful Pig Pound.
He stayed on an IV for a couple of days,
but then the Pound vet wanted him to try solid food.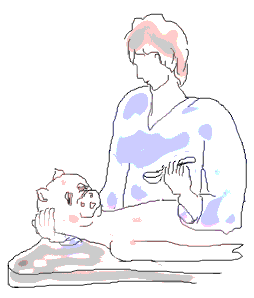 Poor Plucky was more than willing to eat.
However, he was too weak to sit up.
Not even the promise of nutrients could lift his head off the gurney
by the IV pole.
Fortunately, People for Pitiful Pigs rounded up meal-time helpers.
Plucky was amazed at this treatment.
He couldn't sit up, but he felt plucky in his heart.
Back to Home Page
April 2,1999