Plucky Wants to Bite Your Leg
The headlights of an approaching car interrupted the Legendary Hampire
just as he sank his teeth into Plucky's leg.
Plucky seemed to see people coming toward him,
but he wasn't sure about that
or about anything.
He felt very odd.
The Legendary Hampire was gone,
but who were these people?
A voice exclaimed, "Boy, oh, boy! Look how skinny Plucky is!"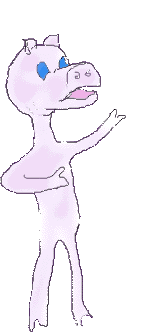 Plucky certainly was skinny.
Even worse, he seemed to fade in and out of view.
Another voice said, "At least he's still alive, you bad child!
Now, feed that thing!"
Soon feet were coming toward him.
A voice said, "Here you go, Plucky, some nice swill, boy."
Plucky opened his mouth and began to sing.....
"I WANNA BITE YOUR LE-E-E-EG!
I WANNA BITE YOUR LE-E-E-E-E-G."
"Just listen to that squealing," said the voice.
"He sure is happy to see me."
Dimly, Plucky seemed to remember the voice.
He thought, "I forgot to smile."
Back to Home Page
April 5, 1999