Stormy and Khan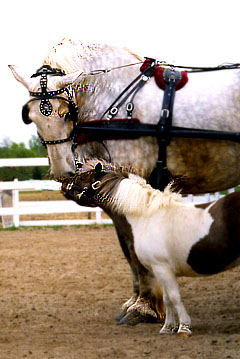 The word "horse" is elastic enough to stretch from
way-too-big-to-go-into-your-garage to little-enough-to-sleep-on-the-couch.
At the barn where Snapper lives there is a selection in all sizes.
Stormy is a miniature horse, not a pony.
He's very tiny, but not at all timid.
You can walk him around on a lead, and he likes it.
When you stop to talk to someone, he will follow the conversation
and lean on you chummily, his head by your knee.
Stormy is trained to pull a buggy.
The problem is that almost any buggy is too big for him,
and almost any passenger is too heavy.
He is willing to pull a too-heavy load for a while, but
when he stops, he means it.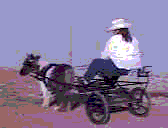 Stormy is for sale, now, because his owner has decided that she wants
a horse in a larger size.
She would sell you Stormy, his harness, and this
buggy for $1,000.
Stormy hopes that you don't buy the buggy expecting him to pull it.
Then there is Khan, a Percheron horse, nearly 18 hands tall.
Khan has a double stall, but he can hardly squish into it.
Although Khan is an experienced draft horse, his owner is new to driving,
and Anita is helping them to get their act together.
They found a very large buggy that is just a tad small for Khan.
He pulls the owner and buggy all over the place
except that he is afraid to go past a field with a little burro in it.
Big Khan is afraid of that burro's weird noises.
Khan needs some of Stormy's courage.
Stormy needs some of Khan's size.
Nobody's perfect...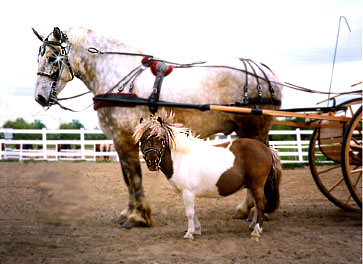 ...except, of course, for Snapper...
who can't see where he's going but he goes there anyway.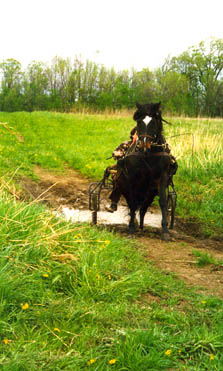 Back to Home Page