HOW THOR GOT HITCHED
TODAY, MAY 15, WAS HITCHING DAY.
THESE ARE THE STEPS LEADING TO THE DESIRED RESULT.
(PRELIMINARY APOLOGY FOR DARK/FUZZY PICTURES.)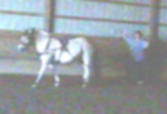 FIRST ANITA WALKED THOR AROUND IN LONG LINES.
HERE SHE WAS ALSO BANGING ON THE WALL.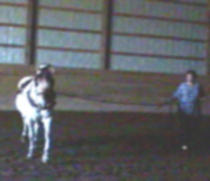 THEN HE DID FIGURE 8'S AT THE TROT IN LONG LINES.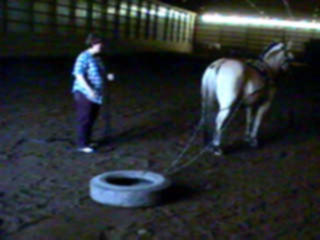 THEN HE PULLED THE BIG TIRE.
HE THOUGHT IT MIGHT BE TOO HEAVY,
AND ANITA WAS SAYING,"YOU'RE ALL RIGHT."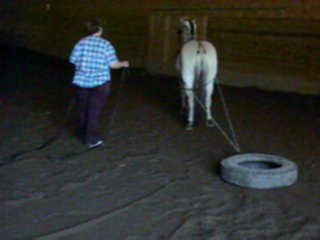 HE STILL DIDN'T THINK HE COULD.
ANITA WAS TALKING HIM INTO IT, HERE.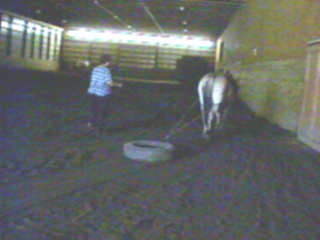 OK
THERE HE GOES.
NOW THE JOGGING BUGGY.
HE'S HITCHED.
FIRST, ANITA AND MARGARET WALKED HIM
AROUND IN LONG LINES WITH THE BUGGY BEHIND HIM RATTLING.
THEN THEY FASTENED HIM TO THE BUGGY...
LIGHTLY, IN CASE OF A NEED FOR A QUICK EXIT.
BUT NOW HE'S HITCHED, AND THE QUESTION IS,
"WHAT WILL HE DO ON THE TURNS
WHEN HE FEELS THE SHAFTS AGAINST HIS SIDES?"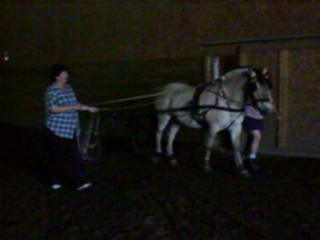 MARGARET WALKED AT HIS HEAD AND ANITA HELD THE LINES.
TODAY, NO ONE WILL SIT IN THE BUGGY.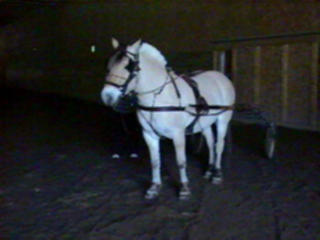 THAT'S IT FOR THIS TIME.
HE JUST PUSHED AGAINST THE SHAFTS ON THE TURNS.
NO PROBLEMS.
ANITA AND THOR WILL DO THIS 2 MORE TIMES
BEFORE HE BEGINS TO PULL HER AROUND IN THE BUGGY.
BUT THERE HE IS HITCHED...
EVEN WEARING BLINDERS.
GOOD BOY, THOR. MANY CARROTS.
Back to Home Page